I'm about to drop the ultimate list of the 5 best specialty coffee shops in Berlin, Germany.
Before traveling to Berlin last Spring, I didn't realize how prestigious their coffee culture is… like VERY prestigious. Very unexpected for me to come across but super thrilled I was able to find the perfect spots.
Read till the end to see my absolute favorite coffee shop that I still dream about.
If you've read my past posts on my Germany travels from last March, Best photo spots in Berlin & Cutest German village, my brother was doing a semester abroad in Berlin and on my spring break I flew out to visit him.
---
travel tip: While I was traveling around Germany, 90% of the cafes only had soy milk for dairy free options (besides lactate free.. but I don't count that). Based on this, something I realized was that cafes that did carry other dairy free milks, especially those with oat milk, were easily the more popular, higher end cafes.
At the time I was visiting Berlin, it was my semester break from university so I still had some papers to get caught up on. Naturally, I spent a lot of time at each of these places not only for coffee, but to be productive as well. So, I will be talking about the atmosphere of these Berlin coffee shops in more detail as well.
---
The Barn Coffee Roasters
First Impressions: My brother introduced me to Barn Coffee Roasters and I was extremely impressed. Their coffee menu varies considerably from pour overs, to flat whites. As they roast their own coffee, it makes complete sense that they are very knowledgeable on the perfect ratios and pairings of their coffee. A super super prestigious spot; I'm just going to keep using "prestigious" for emphasis.
Atmosphere: Super rustic with an average amount of seating. One interesting thing to note is the window spots, the best spots, had these signs to deter people from using their laptops. I honestly thought it was a great concept because in the end it forced me to pull out a book to read instead and also let me spend more time people watching the busy street. It's a very popular spot: lots and lots of in and out and longer lines for people to get their morning coffee before work.
Final Thoughts: 10/10 for quality, aesthetic, branding, the array of options, the list goes on. If you go to Berlin you MUST visit Barn Coffee Roasters. Within the last year they opened more locations too.
---
Bonanza Coffee
First Impressions: Bonanza coffee roasts their own coffee (woo!!!!) and they currently have three locations. The one I went to I think is their Roastery Cafe but I could be wrong… it's been a while. The cafe has lots of space and room to spread out.
Atmosphere: Lots and lots of room to sit and get work done (I managed to snag a window seat in the back). At least when I was there it was must quieter than Barn, for example. The spot also had lots of plants, so thats a plus for me.
Final thoughts: 9/10 for great quality coffee, and a friendly & open atmosphere. Not my absolute favorite spot, but super super good. I think I got some sort of oat milk latte here. Their cafes are located in pretty convenient locations so it makes it relatively easy to pop by.
---
Distrikt Coffee
First Impressions: I could be wrong, but I think I first found out about Distrikt Coffee by searching cafes in Berlin that had the best avocado toast and came across them. Out of the 5 cafes I mention in this post, this one for sure if the one that is more with a traditional cafe menu. So whether you come here for the food, the coffee or both, it's a great spot!
Atmosphere: As I mentioned earlier, this spot is more of a traditional cafe with both great food & coffee. It is a bit louder with the nature of the place, but there are still some corner spots or they have an adorable "mini loft" kinda spot to be a bit more isolated. Also they are a dog friendly cafe SO I SAW THE MOST ADORABLE BEAGLE AND I GOT TO PET IT (a beagle is my dream dog)!!
Final thoughts: if you're looking for a cafe to get great food AND coffee then 10/10, but if you're after just the coffee part then 8.5/10.
---
Chapter One Coffee
First Impressions: This was the other coffee spot that my brother introduced to me. Chapter One is very much a takeaway or quick in-and-out kind of spot. It was super popular with the locals and overall just seemed like perfect spot to grab a coffee with friends on your lunch break at work,
Atmosphere: Although it was a popular local spot, it is a super small cafe & as a result theres super limited seating. I wasn't on a quick break from work, I was actually very much a tourist; I was hoping to sit down, rest my legs and enjoy a nice cup of coffee. I managed to snag a super small ledge to kind of hang out near for a couple minutes until I finished my coffee. Also, if lighting matters to you, this place for the most part was pretty dark.
Final Thoughts: If you're on the go and looking for great takeaway coffee or a quick break then 10/10. But if you're looking for a cafe to sit down and get work done then head to this next spot.
---
Oslo Kaffebar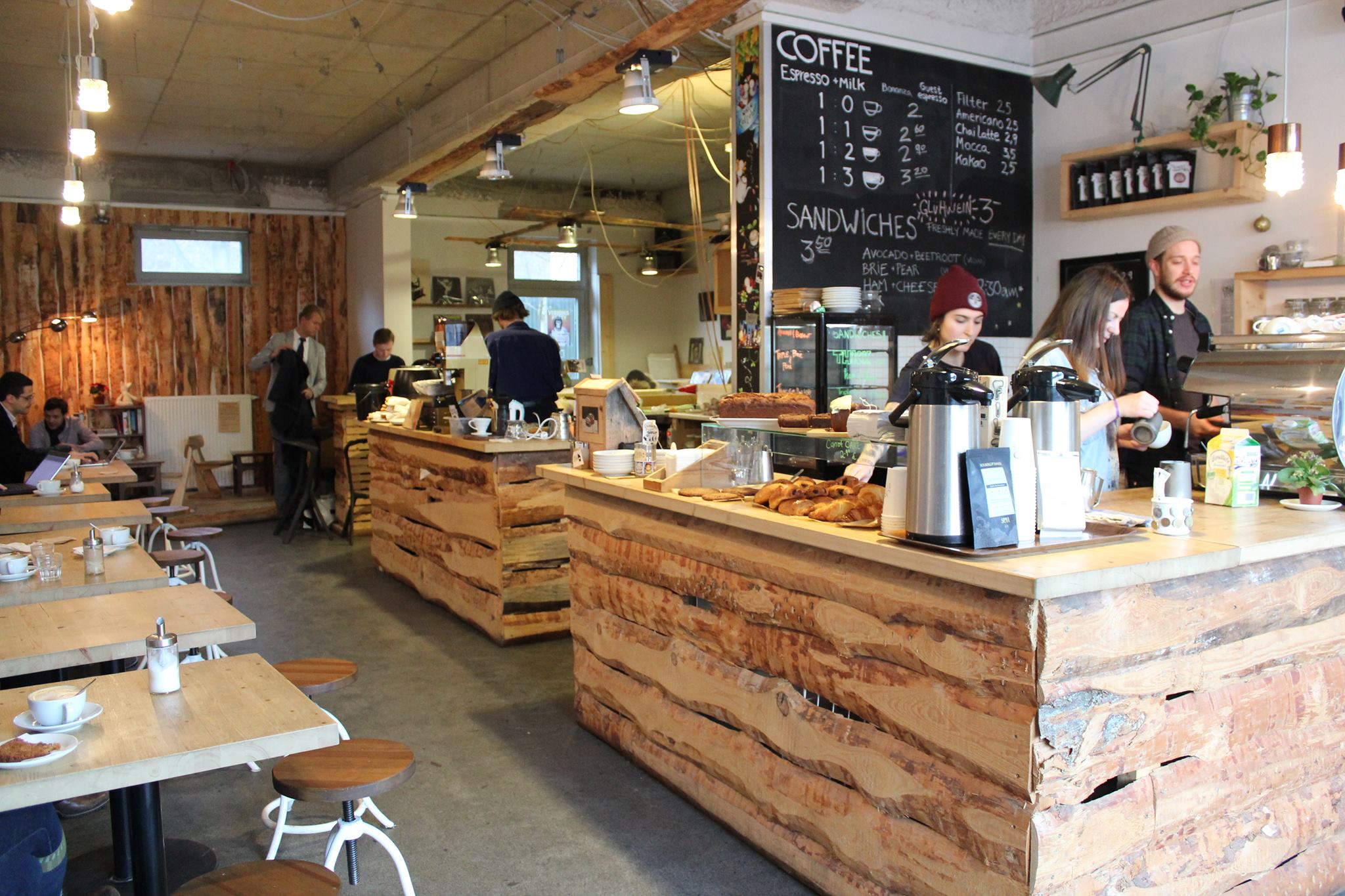 First Impressions: I found Oslo Kaffebar from a quick google search of cafes not far off the train line I'd take from seeing my brother. It was CROWDED with a long line out the door, BUT it moved very timely and once I got to the register the baristas were so welcoming and immediately made me feel like a local. I could instantly tell that, hey, this is the ultimate local gem. Also, if you read my tip from the beginning of this post: they had oat milk… enough said.
Atmosphere: Super rustic, minimalistic and friendly atmosphere. The locals love it here so much that regardless if they got one of few tables available (because it's so popular), they would casually just hang out outside the cafe. The sidewalk in front of Oslo almost was like an extension of the cafe atmosphere, in the best way possible; this aspect also made waiting in line to order a more entertaining experience.
For the cafe's size, they did have a decent amount of seating relative to the space. Even though it was crowded, each time I went I didn't struggle too much to find somewhere to sit. The nature of this cafe is also very "productive" if that makes sense. So many people come here just to relax and do work, which I LOVE!
Final Thoughts: 10/10 for atmosphere, location, friendliness & milk frothing abilities of the baristas.
Also side note, they did a partnership with the oat milk brand "Oatly" themselves. Of course the week after I left this cafe offered free beverages to anyone who got one with oat milk. At the time I was in Germany (March 2019), Oatly was really killing it in the advertising around the country. I even saw their ads in the airport.
If you could only go to one on this list, go here.
---
If you liked this guide, or found it helpful please let me know! I'd really love feedback.
If you're on the look out for more coffee guides:
Best coffee in NYC (also the most instagramable spots)
Best coffee in Portland, Oregon (a city, with surprsingly, a lot of killer coffee).
What to look for when choosing a coffee shop to spend your money at
Lots of love,