From my travels within the gorgeous country of New Zealand, and also them being an island country and all, they have a lot of beaches. Don't get me wrong, most of them are gorgeous and "off the beaten path" but there are some beaches that are even more hidden.
Related: Top 10 Unforgettable Travel Destinations in New Zealand, Coromadel Peninsula Travel Itinerary, Coolest things to do in Dunedin, New Zealand.
Keep reading to see the beaches where you can see wildlife up-close & FOR FREE!
---
The beaches I'm about to mention I only found out they existed by either:
an intense google search, lots of digging
a local told me, so naturally I had to check it out
I wanted to visit a very specific music video location spot…
*keep reading to find out what music video I'm referring to*
---
Gemstone Beach
Southern coast of the South Island, New Zealand.
I only found out about this beach because when my Mom came to visit me in New Zealand the only place she wanted to go to was this "Gemstone Beach".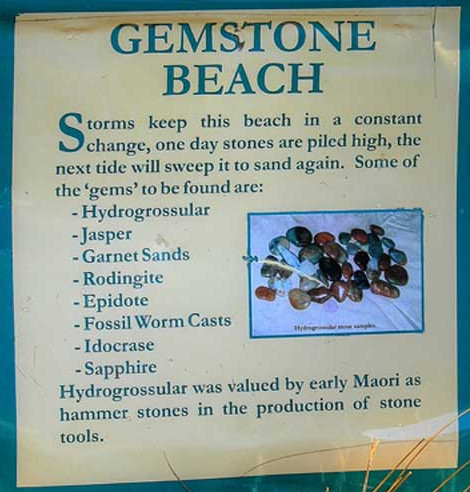 Gemstone Beach is a random little beach off one of the main roads on the southern part of the South Island; it's not far from the little town of Orepuki.
Let me tell you, if we didn't know about this place we could have very easily driven by and had no clue that it was anything important, it's that HIDDEN! (so thanks to my Mom to finding this beach randomly on trip advisor i think)
Okay, okay, so it's hidden but are there actual gemstones there?
Yes, there are actual gemstones there. But if you weren't familiar with the beach or you didn't read the sign then you probably wouldn't think this beach is anything special.
With the location of this specific beach the ocean currents bring in some really cool things. There are different factors that play into what specific gems you actually find on your trip (seasons, storms, etc.), but my family was super pleased to find what we did.
Im positive I found some jasper and other gorgeous ones (I am no expert or I'm sure I could give more specifics). Especially once you put the rocks underwater the colors really shine (this shot is by fit traveler)!
Related: Explore Tunnel Beach, South Island New Zealand
---
Bethells Beach
North Island, New Zealand within an hours drive north of Auckland.
You may be thinking either:
WOW that beach is gorgeous!! or
I recognize that beach from somewhere?
Does this look more familiar?
If not, that's okay too. Bethells Beach was one of the main filming locations of Taylor Swift's music video for "Out of the Woods". The song itself means a lot to me personally, like emerging beyond dark times.
fun fact: I actually got contacted by Taylor's management and got to meet her back in 2018 if you're interested in a post on that!
Regardless if you care for Taylor Swift or not, it really is a STUNNING beach. It's almost a mini hike from the car park to get to this beach. There's a creek that runs down past the car park to lead you to this open beach lined with hills.
A beyond stunning beach that is the PERFECT day trip, or side trip from Auckland if you have the time.
Related: Explore Coromandel Peninsula, the most stunning North Island road trip
---
Brighton Beach
South Island, New Zealand not far from Dunedin.
I have actually done a whole post going more into this gorgeous spot here, but I couldn't help but include it on this list. Brighton is a small village within an hour drive of downtown Dunedin, New Zealand. One of my flatmates recommended to visit it and WOW I was not disappointed.
I went at sunset just before a big rainstorm so it was extra quiet and eerie.
The beach itself had a massive parking lot and a space for camper vans to park as well.
I've mentioned before that there is an endless amount of pretty beaches around Dunedin itself, but this one in particular I only found out about it from a local. So this is me passing that info along to share it with you.
You could spend a couple days alone just exploring the beaches around Dunedin.
Related: Exploring Dunedin, New Zealand – Top things to do
---
Point Kean Beach
South Island, New Zealand just outside of Kaikoura
Kaikoura on its' own is just a stunning spot to travel to. It's a bit out of the way to get to, but it's SO worth it. The area is especially known for their ample amount of marine life so the marine biologist in me had to make sure to go here!
The Kaikoura area is so unique because the continental shelf drops significantly just off the coast; meaning, that the ocean gets very deep without having to travel far off the coast. As a result, many marine life (seals, sperm whales, etc.) takes advantage of this and it's ample amount of resources and calls the Kaikoura Peninsula its' home.
There are a couple other beaches around Kaikoura where you can see incredible wildlife for zero coast, but this one was the main one I could find after an extensive google search.
Although Point Kean is technically a beach, you can't exactly enjoy the beach to the full extent you might want because it is taken over by these adorable New Zealand fur seals year round. Their colony extends to this car park where you can easily find them having a good snooze.
---
*disclaimer: these photos are zoomed in and I did not get this close to these animals. I am COMPLETELY against the tourists that go DIRECTLY up to them AS A WILD ANIMAL for photos and out of other curiosities. Granted that the area has MANY SIGNS asking to keep your distance from the seals, it's sad that people DON'T listen. I am very passionate about protecting wildlife so if you visit here, or anywhere with wildlife really, PLEASE keep a safe distance for both you and the animal.
---
To give more of a context, I found this photo which shows how fine the line is between the beach and the car park. You are allowed on the beach/rocky coast itself but only if you are a certain distance from any wildlife. So please pay attention and give the animals the space they deserve.
Me having a degree in marine biology & actually about to do my masters on Australian fur seals (this little guys close cousin), this beach was heaven to me.
---
Curio Bay Beach
South Island, New Zealand in the Caitlins
Curio Bay is most well known for being the site of a yellow-eyed penguin colony (one of the most shy and rare penguins in the world) and also a petrified forest. I'm not going to get too much into the science behind it but basically a long time ago this bay was a forest and over time, and a series of ancient volcanic mud flows, the trees fossilized to form these incredible structures you see here.
It's just a really unique beach to visit. Out of my list this one is the most well-known, as the Caitlins are a more popular spot to explore.
Related: Top 10 New Zealand Travel Destinations
---
I hope you enjoyed reading about some of my favorite beaches in New Zealand.
Lots of love,